Mark It Savvy.
Mousetrap!
In a "hindsight is 20/20" take on Michael Eisner's Disney career,
Slate
writes that the ousted exec's downfall was that -- now, let me get this straight -- he was
too
successful:
"With the success of ESPN, Disney gained such enormous leverage over the entire cable industry that, in 2004, the company earned a record $1.94 billion in bottom-line operating income from its cable channels alone... These numbers did not go unnoticed by the fund managers who controlled two-thirds of Disney shares. As it became increasingly clear that Eisner had hit the jackpot with ESPN, these fund managers focused more and more on Eisner's inability to convert the enormous appreciation of Disney's assets into a stock-market payoff."

[Read On]
Obviously, this sort of thing can take a toll on a man, but Bad Boy Eisner isn't your typical recovering corporate hotshot.
Defamer
writes that he checked into a Sheraton the other night and -- now, let me get this straight -- did
nothing
:
"The manager on duty waited nervously, this sort of thing usually leads to certain young ladies joining the men up in the room later... Well no ladies ever came to visit our CEO. He was up there alone. He never came down. By this point the manager on duty was worried that he was going to have a dead body on his hands in the morning. It all seemed like a perfect set up for a suicide of a high status figure. Frantic all night, the manager could only wait by the front desk to see what would happen. No security ever showed up and the next day, and our famed CEO checked out, charming to everyone, paying in cash and with no baggage."

[Read on]
Personally, I think he's better off -- and so is Monday Night Football, now that
ABC sold it off to ESPN
(both Disney-owned). Starting next year, we'll get as many cheesy Desperate Housewives towel-dropping skits that our prime time hearts desire.
See, I always knew the mouse had a wild side.
Posted at
3:27 PM
. .
It's been awhile...
Mark It Savvy apologizes for the hiatus, but
"it's just that time of the semester"
. So until I can confirm that I'll be graduating in a month *cross fingers*, here's something to munch on:
The
WSJ
and
BWeek
[reg req'd] dig into Eliot Spitzer in Op-Eds. The
Journal
seems to be more concerned with the apparent conflict of interest regarding Spitzer's gubernatorial prospects, while
BusinessWeek
(under new editor Stephen Adler) thinks NY's white-collar crime fighter isn't doing his due diligence.
Is it just me, or does this all seem a bit Brutus-esque?
"As Caesar loved me, I weep for him; as he was fortunate, I rejoice at it; as he was valiant, I honour him: but, as he was ambitious, I slew him."

Just a thought.
Posted at
9:50 PM
. .
Public schools just aren't what they used to be...
Administrators
paying high schoolers
for crime tips! 12-year-olds
counterfeiting dollars
and using them in the lunchline! Talk about a lesson in entrepreneurship.
Posted at
9:59 PM
. .
Don't say we never told you!
(Wow, those folks at the Times can make nerds look glamorous!)
This week's New York Times Magazine ran a feature on Portable People Meters (PPMs), a device used by Nielsen-rival Arbitron to accurately document all media content that volunteers encounter during the day. The Big Brother-esque scheme involves the addition of a PPM-readable digital frequency into all television and radio content. Arbitron feels that media providers will be willing to comply with its plans in exchange for advanced market demographic information, which they believe the PPMs will be able to provide.
Sure, executive compensation isn't what it used to be, but Robert Wayman, interim CEO of HP seems to be doing okay.

BusinessWeek

reports that Wayman's $3 million cash bonus will work out to about $57,692 a day for each of his 52 days as CEO before Mark Hurd's first day. And we thought Carly's paychecks were extravagant!

Posted at
10:03 PM
. .
Not to be sacreligious or anything...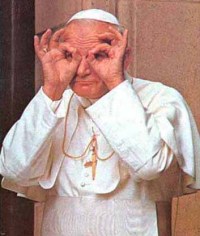 [via
whatevs dot org
]
Italians have made it clear that
mourning
for the Pope doesn't necessarily mean you can't make a buck or two while you're at it.
"Grief or no grief, many Italian lottery addicts are looking to the late Pope John Paul for their

lucky number. Across the Roman Catholic country, punters are rushing to lotto sellers and

gambling on numbers linked to the Polish Pontiff in the belief those digits are now lucky..."

[Read On]
On another note, the Pope's funeral is expected to bring 2 million people into Rome, and you know what that means:
substantial price-gouging
! Italian consumer watchdog
Codacons
has predicted additional revenues of $64.4 million, during a time that is otherwise a lull in the area's tourist activity.
What can I say: the Italians know how to throw a party.
Posted at
7:33 AM
. .
Scandal!
Come on, gossip is the only thing us less-famous types have going for us...
Warren Buffett involved with the AIG scandal? Well, that's what Slate and BizzyBlog seem to think. [via Instapundit] Apparently the revered investor "was briefed -- briefly -- on the AIG transaction"and will be called in as a witness in the forthcoming hearing for his "peripheral involvment". Hank Greenberg, former AIG Chariman & CEO, has since stepped down and taken up new residence in midtown to manage the three privatie entities in question.

Mark It Savvy's Verdict: No biggie. Sure, it's kind of amusing -- kind of like when the teacher's pet forgets to do his homework. (Not really newsworthy on its own, but only in context.) I'm doubting that we'll see any evidence that Buffett was materially involved



Pesky Europeans! New Yorkers are up in arms at the giant H&M advertisement located on the side of the historic Flatiron building. (Male residents with views of the young woman's cleavage are surprisingly reticent.) The city has sent Flatiron a nine-pronged complaint, with violations including "creates hazardous wind load".


Mark It Savvy's Verdict: More than meets the eye. Maybe I'm giving H&M and the people at Flatiron a little too much credit, but I find it hard to believe that they would just "forget" to get a permit for the ad. (Or, it could be one of those "breakdowns in cultural communication" that my management professor keeps rambling about -- who am I to say?)



Speaking of low-priced sequined miniskirts made in Asian sweatshops... Adrants seems to think that Gap has gotten itself into a bit of trouble with its new spokeswoman, UK songstress Joss Stone. The 17-year old has moved in with her 25-year-old boyfriend, music producer Beau Dozier, in California, where relations between the two constitute statutory rape.


Mark It Savvy's Verdict: If Lindsay Lohan can get drinks at Marquee and then hook up with Bruce Willis (disclaimer: not confirmed, but who are we kidding?) then the otherwise talented and well-mannered Stone can shack up with whomever she chooses and it's fine by me.


Posted at
4:32 PM
. .
Telco Takeover Talk
[From Left: Notebeart, Qwest Chairman & CEO; Dolan, Cablevision Chairman]
Don't they look feisty?
The underdog bidders are playing hardball, as
Qwest Communications
and
Cablevision
make high-stakes bids for scandal-ridden
MCI
and
Adelphia
.
Earlier today
MCI rejected Qwest's $9.1 bil. bid
, citing unpopularity among its customers and concern over Qwest's financial health. But don't expect an immediate reversion to Verizon's revised $7.6 bil. offer: many, including Legg Mason's Bill Miller, think otherwise:
"We believe the current shareholders of MCI overwhelmingly prefer the Qwest offer and that it provides superior short and long term value."

[Read on]

(Translation: $1.5 bil. is a lot of fricking money! Who really cares about that crazy "Can you hear me now?" guy, anyways?)
Add to that Richard Notebeart's distinctive personality and well-publicized need for this deal (what better to remedy $17 bil. in debt than MCI's cash flow?) and you've got what promises to be a great takeover battle.
According to

BusinessWeek
, look for Notebeart to start lobbying shareholders, Congress, and even the FCC for support.
Cablevision, on the other hand,
submitted a lower bid
than TimeWarner/Comcast ($16.5 bil. vs. TW/C's $17.6 bil.), but expect shareholders to view the all-cash offer as superior to the other cash/stock warrant combo.
Some analysts, like Sanford C. Bernstein's Craig Moffett, believe that Cablevision is ill-suited to reap the benefits from an Adelphia merger, since their operations are concentrated in the New York Suburbs:
"The cornerstone of the economic synergies in an Adelphia acquisition come from geographic clustering, not sheer size... Cablevision brings very little to the table by way of geographic clustering."

[Read on]

But a
New York Times article
believes that Cablevision's "expertise in managing large market cable systems" would help them manage Adelphia's Los Angeles operations. The other, smaller operations would likely be sold off. Sure, shareholders might be happy with all the cash, but could you imagine trying to convince Adelphia's employees and customers to support this one?
Let the bloodbath begin.
Posted at
4:00 PM
. .